Masseria Spetterrata
Agriturismo - Restaurant
72016 Contrada Spetterrata
Montalbano di Fasano (BR)
Apulia - Italy

Tel. e Fax +39 080 4810734
Mobile +39 328 2230951



>>

Email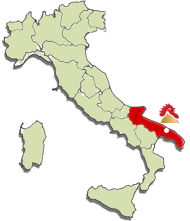 Agriturismo Masseria Spetterrata
The Agriturismo Masseria Spetterrata is located in the countryside of Fasano in Apulia in the area of Valle d'Itria. It's characterized by trulli, ancient farms and by the centuries-old trees of Plain of Olives trees, real living works of art. It is immersed in the pleasant countryside of Montalbano at the foot of Cisternino, between Fasano and Ostuni.

The Agriturismo Masseria Spetterrata is located equidistant from the cities of Bari, Brindisi and Taranto.
It is at the center of an amazing area rich with beautiful villages full of historical and enogastronomic attractions that have made Apulia and particularly the Valle d'Itria famous and appreciated in Europe and in the rest of the world.

Apulia, where Masseria Spetterrata is located has become, over the years, a tourist destination for style and good life lovers. At the Agriturismo Masseria Spetterrata you will enjoy, in total relax, the extraordinary richness of this land, the culinary delights, fine wines and the Apulian people proverbial warm welcome.

The Agriturismo Masseria Spetterrata, first of all is a farm dedicated to the cultivation of century old olive trees from which you get an extra virgin olive oil of the highest quality. But it also offers its guests the Hotel and Bed and Breakfast service in rooms or in apartment. The estate enjoy a swimming pool surrounded by rock gardens with stunning panoramic view of the sea on the Adriatic coast. The structure of the farmhouse consists of a building where the restaurant is located and further up another buiding with rooms and apartments.

For our guests
For an unforgettable stay, the Masseria Spetterata guest could choose between may activities :
guided bike tours through the beautiful trails that wind around the Farm Masserria Spetterrata
spa and massage treatments performed by trained personnel
courses of traditional cuisine of Puglia
play golf in the popular area of San Domenico Golf
horseback riding in one of several equestrian centers
windsurfing on the sea in the affiliated beach clubs
organized visits to nature reserves of Torre Guaceto and the park of the dunes of Torre San Leonardo
recreational fishing and boat trips
or simply stay in the pool in the shade of an olive tree surrounded by the Mediterranean green between the sea and the sky.